We arrived in Stuttgart by train from Ulm. The journey only took an hour, but as the train sped along the tracks the landscape changed from white and snow covered to green, but although the greenery looked nice it was still freezing cold about the half way mark.

We arrived at Stuttgart HbF, exited the train station via the subway underneath the main road, and came up next to the tourist information office. A reasonable 50 cents later we had a tourist map of the city and were on our way to our hotel.
We checked-in, dumped our kit, and then headed out into the city.
It was lunch time so we headed straight to a restaurant/bar called Platzhirsch (Geißstr. 12, 70173 Stuttgart. Tel. 0711 – 242 397 http://www.platzhirsch-stuttgart.de). We both had the daily special, yes, yet another schnitzel, I had chips with mine, Laura chose potato salad. We had a couple of dark beers to help it down.

The beer was good, but the food was far from the best that we have had in Germany so far. Platzhirsch had a young funky feel to it, even at lunch time. We fitted right in.
We would visit again, but for the beer and vibe, not the food.
After lunch we returned to our hotel for a siesta. In the evening we were both tired, weary, and not feeling 100%, so we popped into the supermarket near our hotel, and purchased a couple of bowls of salad, some ham, and bread. A room service dinner, delivered to our hotel door – by us.


Photos of Stuttgart

Next morning we had breakfast in our hotel, a lingering breakfast while I used the free Internet, which was only available in the public areas not our room, and I caught up on some blogging tasks.
Breakfast a distant memory we ventured out into the big wide World. It was a mixed day of tourism and shopping. By mixed I mean 1% tourism and 99% shopping.
Unfortunately 99% shopping seemed not to be enough, because Laura failed to purchase any new footwear. She is in desperate need of some new kicks, as her boots are not long for this World, they're falling apart, held together no doubt by street grime picked up over the past 19 months of walking on this bout of our travels.
Laura may not have found any suitable footwear, but she did buy a few things to replace her lost luggage, a Maybelline mascara, a mini double sided mirror, and a pair of tweezers. She said she was very pleased to finally be able to tidy up her Dennis Healy brows. She also said she was very unhappy with the magnifying side of the mirror, which she claimed made her wrinkly eyes look about 100 years old. I told her they were beautiful laughter lines, and she didn't look a day over 90.

We also bought a large tub of coconut oil. Both of our faces have taken a battering from the cold weather, and were in much need of a little attention. The coconut oil was a welcome treat for our skin, and as we chose to purchase edible coconut oil, we can use it safe in the knowledge that it doesn't contain any harsh and nasty chemicals. Plus if we have room any service dinners again, aka buy salad etc to eat in our room, we can add some flavour by drizzling it with our new 'face moisturiser'.


Mascara, mirror, tweezers, and coconut oil are all well and good, but for me I think the best purchase of the day was an orange Ivory Coast baseball cap that cost only 2€. A bargain, and so anti-cool that is is cool. Well, that is what I'm telling myself.

We stopped for lunch at Taunerquelle Restaurant. We both had the special of the day, which was a couple of white sausages with gravy, and potato salad. At 9.99€ it was over-priced, but the good beers made up for that. The restaurant/pub itself was also pleasant, and very reminiscent of a country pub in the South of England.

Video of Stuttgart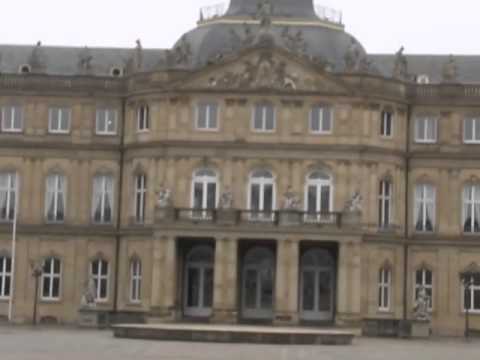 The next morning was a Sunday, which is not a fun day in Germany. Everything was closed, so instead of heading into the centre of town, we decided to explore a few of the back streets near our hotel and beyond. We found little of interest, so decided to stop for a beer in a joint called Dre Mohren, a nice looking bar/restaurant. While we sat at the bar supping a beer, we toyed with the idea of having lunch there, that was until we saw the chef sneeze into his hands and not bother to wash afterwards. The barman was also doing his best to spread germs around. We voted with our feet and left.


We walked the streets some more, eventually heading back towards our accommodation, finally we ended up in Shabu Shabu, a Chinesse restaurant just across the road from our hotel. We both ordered soup to start, prawn and coconut for me, chicken and coconut for Laura. It was nice and spicy, but quite small portions. The soup was followed by chicken with vegetables in a coconut sauce served with plain rice for Laura, while I had pork in a soy sauce with vegetables, also with plain rice. The main dishes were nothing special, in fact we'd had preferred to have had more soup instead. The food was o.k. and made a nice change from the traditional German food that we had eaten over the last week or so.

For our final meal in stuttgart, there was little choice, as being a Sunday evening not much was open. We popped over the tram tracks from our hotel to the Lokanta kebab joint. I ordered a wrap stuffed with doner kebab meat, and lots of salad. Laura said she was fed up of our meat rich diet, so she had an aubergine pizza. She's doesn't particularly like pizza, apart from my home-baked 8 hour tomato sauce topped pizza, but it was one of the few meat-free items available. The pizza was large, the topping was generous, especially the cheese, in fact there was way too much cheese. I scoffed my doner wrap, and had a slice of Laura's pizza too. We're both fed up of cheese because we ate a lot of it recently in Italy. Having said that, the pizza was pretty good, although I doubt they thought we liked it as when we left it looked more or less untouched.

Instagram photos of Stuttgart